What Tiana Wants for Christmas
Part of the What They Want for Christmas Series
An adventure around Walt Disney World featuring interviews with Disney Characters
Tiana has one of those smiles that just goes on forever. I haven't known her personally for very long, but I've always known who she was. In the few times I have spoken with her, we always seem to come back to the same subject. Can you guess what it is? I bet you can. … Food. But I was determined to ask Tiana what she wanted for Christmas, convinced it was going to be a breeze. Surely we could steer our conversation away from food long enough to discuss holiday cheer, right?
You know that awkward hello that happens if you're not sure the other person remembers you? Do I introduce myself? Am I introducing myself to her again? Is this a re-introduction? And suddenly, there she was.
"Hello, Tiana! It's so good to see you… again," I stuttered.
"It's so good to see YOU, again!" she replied.
Fighting off urge to ask about her favorite beignet filling, I got straight to the point.
"Tiana, what is it you want for Christmas this year?"
Tiana didn't bat an eye and her answer came fast and quick.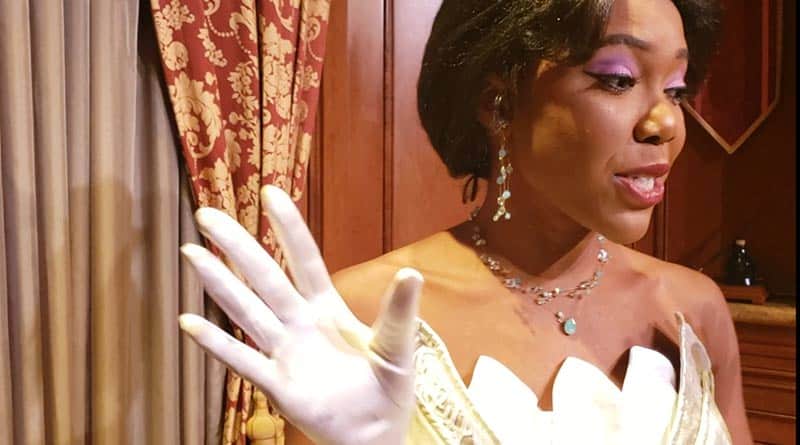 "Well, you know I love to cook. And you know I have an amazing collection of cook books. I'd have to say I'd really like more cook books!"
And there it was. Food. We were talking about food again. Not only were the hopes of avoiding the topic of food unavoidable, but my stomach had decided to speak up and I started thinking about the creamy cheesy macaroni and tots over at the Friar's Nook. My stomach was relentless, fighting for my undivided attention.
Have you ever tried keeping your stomach quiet around Disney royalty? It's not easy when some of the best comfort food in all the world is just a few steps away. The creamy cheesy bacon macaroni and tots at the Friar's Nook has a charm and lure of its own. At first you might question how these ingredients could possibly coexist in the same dish, but as soon as you take a bite, you discover the two-word answer you seek, "Very nicely." Unmentioned is the dollop of sour cream to cool things down, should the need arise. It's not offended by a little hot sauce, either. The Friar's Nook was calling my name, and from such a very short distance! But I digress.
I had to thank Tiana and leave before one of us brought up Dole Whips or Mickey Bars. It was wonderful to see her again, but we really should stop meeting so close to lunch time — if she remembers me, that is.
Gift Ideas Inspired by Tiana